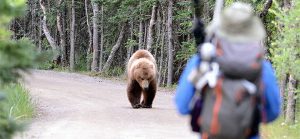 Short-term:
Bears attacked furiously last week. The S&P posted its worst weakly loss since January 2016. Bull immediately squandered their chance to regain control on Monday and the Bears took us to the range low by weeks end. As we have been mentioning in our medium term outlook, the range was likely sill going to last for at-least another month. The Bears likely just added time to that time frame.
This week the Bears are looking to push the market past the February low. However, our bounce models are starting to signal a bounce is due. If we see another down day on Monday, the models will become even more extreme. We will ideally be looking to get long on some intraday exhaustion.
After the bounce, chances are that we will see another leg down.
Statistics for 2 down weeks on the S&P: next week historically, has a 58% chance to close in the green, with an okay profit factor.