Short-term
Last week went as expected, we saw a pullback early in the week which was subsequently quickly bought. The small pullback did not rectify the overall over bought conditions. So we are still expecting a larger pullback over the next week or so. We may see some strength on Monday but we will look to Fade such strength as a possible micro double top with the December high. Look for the pullback to take us to around the 260 level.
Statistics for 3 up week on the S&P: 54% chance of closing green but with a okay profit factor.

Medium-Term:
We are now in the final climax phase of the long 8 year bull market. This will be the exhaustion phase of the Bull move. While this phase could continue for some time, chances are the upside is limited to around the 260-270 level in the medium term, but with a such a climax rationally goes out the window. Also, of note is that there is a long standing trend line dating back to the 2009 low above at this same 260-270 level. Since we have broken this trend line, it further increases the change a large, abrupt pullback  . While the chances of such a sudden "crash" remain low by definition, they are slowly increasing.
SPY has now risen for 13 months is a row which breaks the previous record, which is another sign of the current climatic market phase. We are now seeing volume indicators spike higher while at the same time momentum is slowly weakening. This type of divergence should lead to a sharp 1-3 month pullback which can start at any time over the next few months. The 255 level would be the first line in the sand. However, Bulls will likely buy the first larger pullback so Bulls continue to be in full control for the foreseeable future.
Even more evidence of the current climax can be seen with SPY being above its moving average (the blue line) for 55 periods. This is extremely unusual and we normally leads to a fall below this average in the near future. This is now the longest period above the average on the SPX since 1995 (about 62 periods), so we are very rare territory.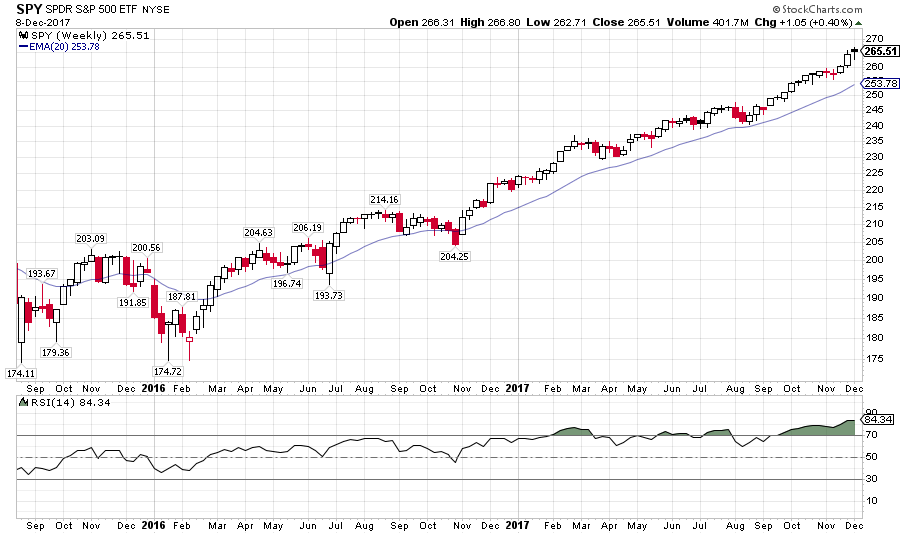 Long-Term:
Long-Term Market Outlook (Updated 11/5/17).
The Calendar:
This week: will be all about the Fed. Currently the chance of a hike is about 100%. While the chance of a double hike is about 10%.
Next week: We will see the GDP report and durable goods.
Trend Following Models:
Our long-term models are Bullish.
Our medium-term models are Bullish.
Our short-term models are Bullish but weakening.