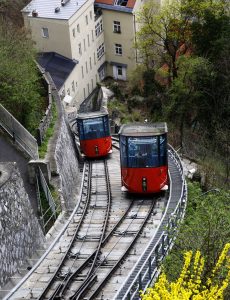 Short-Term:
Last week we saw another push to a new high as expected. We also fulfilled the green target. The Bears however, were once again able to stop the breakout. Therefore, we have another 3 push up pattern developing. This means we could see a final push up this week before we see Bears try to attempt a breakdown. A breakdown would bring us to the 240 level as the first stop.
Statistics for 2 up weeks on the S&P: 57% chance to close green the following week with a profit factor below 1. Not good for Bulls.
Medium-Term:
We saw a large move down on May 17th which was quickly bought. This low formed yet another supposedly "rare" V bottom. The market has been sucking in short with these quick drop only to quickly squeeze them, forcing the market even higher. We have come to believe this invisible hand under the market is stemming from ETFs with their constant inflows of passive money.
We are currently in an exhaustion phase of a Bull move. While this phase could continue for some time, chances are the upside is limited to around the 250 level in the medium term.  This run also increases the chance of an abrupt pullback with little or no warning. This is because we are entering thin air, with the market very over extend. Also, the lack of a broad rally and weaker momentum further increases the potential.
Just check out the lag in the banking sector. With the Fed hawkish, they should be outpacing the SPX but instead are lagging.
Also of note, SPY has been above its moving average (the blue line) for 31 periods. This is extremely unusual and we normally leads to a fall below this average in the near future. This is now the longest period above the average since 2003 (about 50 periods), so we are in very rare territory.
Long-Term:
Long-Term Market Outlook (Updated 4/16/17).
The Calendar:
This week will be topped off by the GDP report on Thursday.
Next week: we have the 4th of July Holiday on Tuesday,  the Fed minutes on Wednesday, and the Employment numbers on Friday.
Trend Following Models:
Our long-term models are Bullish.
Our medium-term models are Bullish.
Our short-term models are Bullish.