Short-Term:
Last week we saw the test of the 232 trend line on Monday and we rallied into the end of the week. The rally fell short of closing March in the green which now gives Bears some chances to attack. Bears must strike ASAP because with a break above last week's high, the market will likely see a new all time high very soon thereafter giving bulls back complete control. Bears need to break and hold 231.50. This will signal that a 4-5% pullback has begun.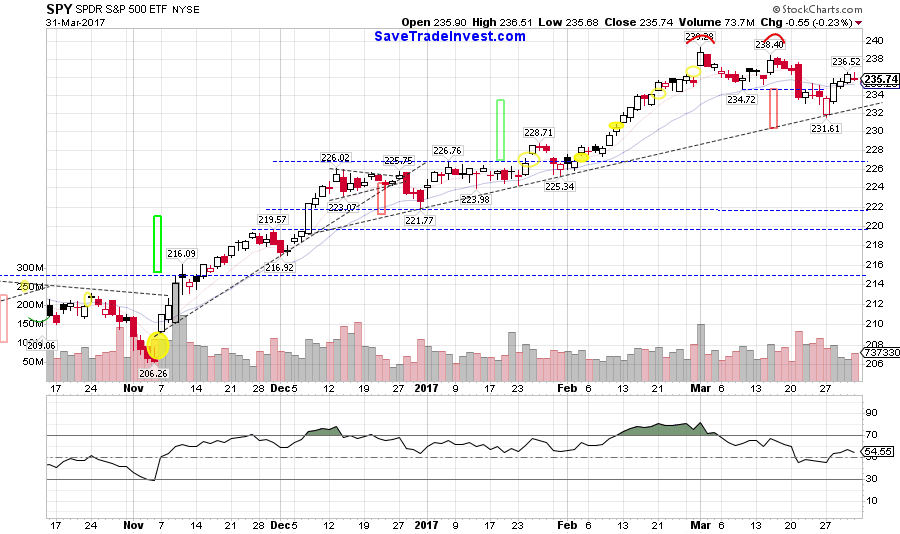 Medium-Term:
Since March closed in the red but not near it's low, a 5% pullback is a bit less likely. If we do see a pullback, it will likely test the 2017 open around 224-225.  This time frame should also coincide with the anticipation of the upcoming French elections this April and the debt ceiling and tax fight in May and June. The Pullback will almost certainly be bought and the market will attempt to at least retest the highs later in 2017. At that time it will be the next real chance to see a stronger Bear emerge.
228 is the first line that The Bears need to break to be taken seriously.
As we have mentioned, long term yields on bonds have begun to act differently than in recent years. This could be an issue if yields keep on rising. As we expected a short squeeze started a few weeks ago fueled by mandatory fund re-balances. Leg one of the squeeze has completed. Look for a second leg coinciding with the coming market pullback. We also now think the end of this Bull market will coincide with the 10 year yield around 3.5%.
We are keeping an eye on Crude. Smart money is currently extremely short. The last time this happened was when oil crashed in 2014. So we could see up to a 40% retrace of the gains made since the February 2016 low. This would put Crude into the lower 40s and would ultimately put extra pressure on the overall market.
Long-Term:
Long-Term Market Outlook (Updated 1/1/17).
The 2400 target was fulfilled. This was a great area to take some profits off the table, and we should normally see a pullback here.
The Calendar:
This week we will have the FOMC minutes and the Employment report.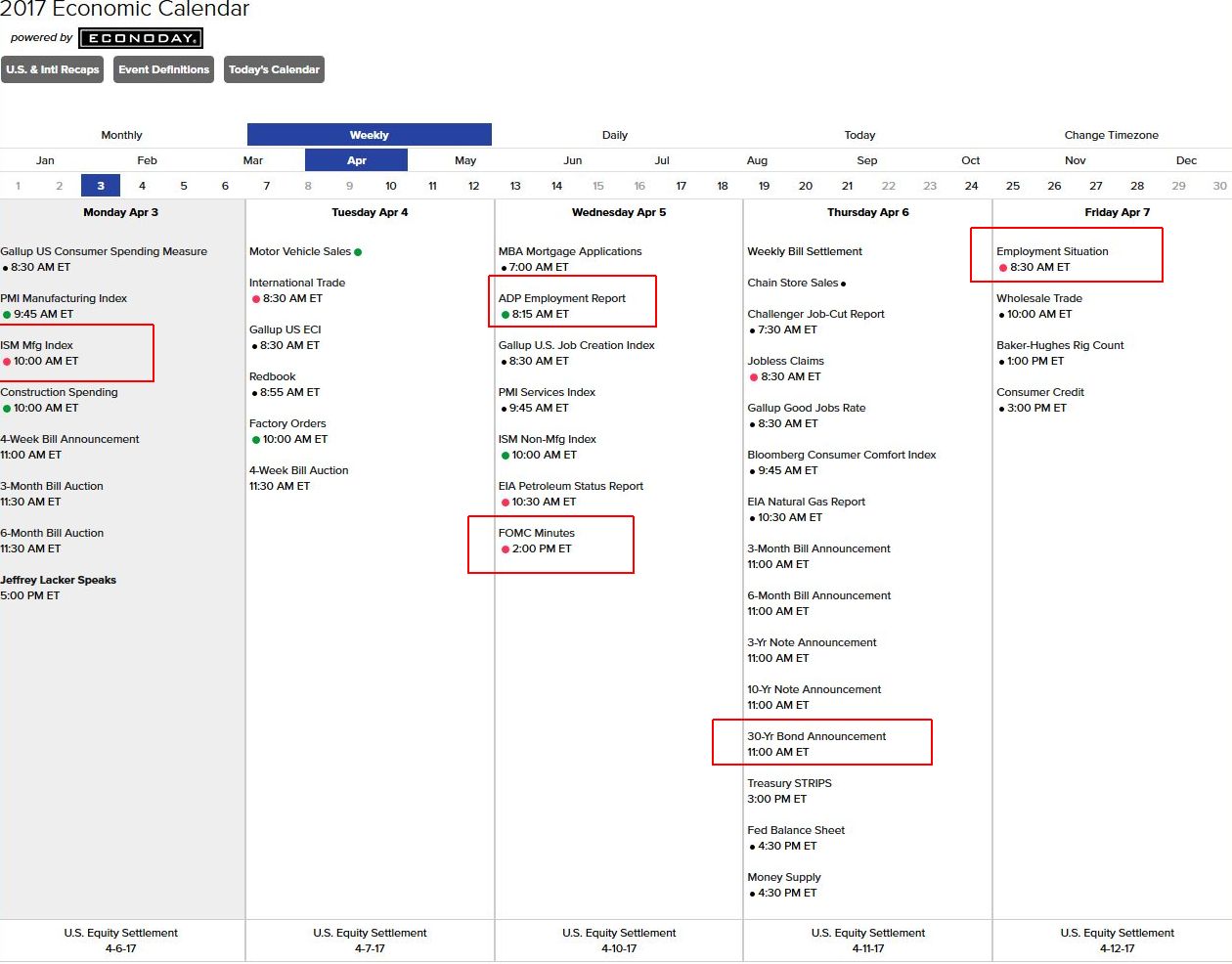 Next week will be a shortened week with the markets closed on Good Friday.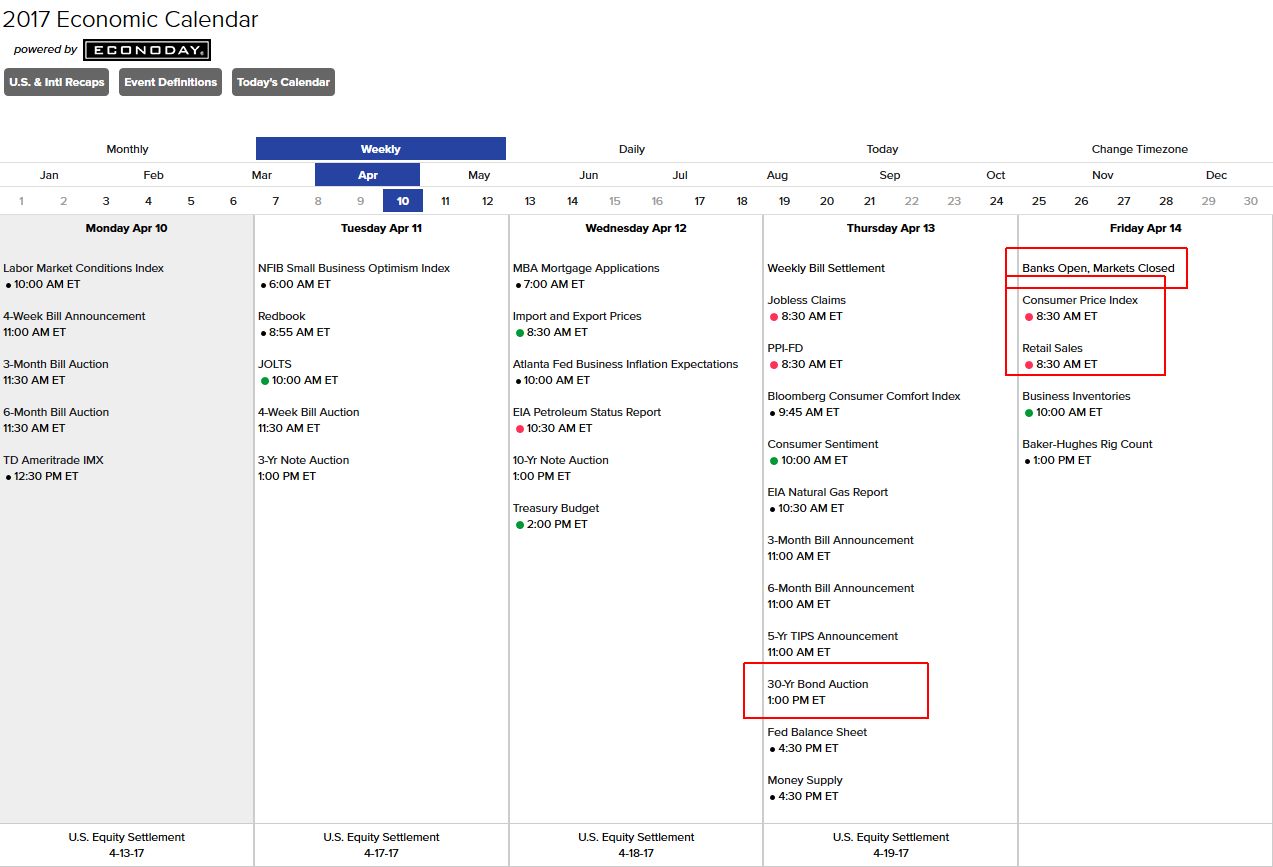 Trend Following Models:
Our long-term models are Bullish.
Our medium-term models are Bearish.
Our short-term models are Bullish.