Short-Term:
Bears attacked almost all last week. We saw a try at the top of the downtrend line early on Monday as expected. We then fell the rest of the week, for a .69% loss. This week we are expecting at least a lower low at some point and possible a break of the 211 line. Ideally, Bears should try to wait a few more days, since we are already due for a bounce. If we get that bounce early in the week, we will be looking for some short opportunities.
Medium-Term:
We are still seeing some outflows but this will slowly become a double edged sword. If we start to move higher, there is a good amount of money now on the sidelines that will rush back into the market.
It is clear that the market wants Hillary to win due to the status quo factor. A Trump win, which is still less likely, received a huge boost from the FBI revelations on Friday. Betting odds are currently around 24%. If odds begin to move over 30%, look for the market to become spooked very quickly. Trump is the change candidate and since the market is scared of change we should see some panic selling if polls keep on rising.  Also, even if Clinton does win and the FBI presses charges the market will become very volatile. We will be in uncharted territory in our democracy at that point
Also of note, long term yields on bonds have begun to act differently than in recent years. This could be an issue if yields keep on quickly rising.
We saw about a 6-7 point drop in the last few weeks. Bulls still have a weak buy the dip card. This means there is a slightly better, chance that bulls will buy this pullback. However, we think we first see a break of 210 back into the 2 year range. The key to find out if the bulls will be able use the card will be on how strong the selloff is into the range. The stronger the selloff into the range the better chance that the Bear might be real.
Long-Term:
Long-Term Market Outlook (Updated 9/5/16).
Calendar:
This week we have the Employment report but all eyes will be on the polls and the FBI.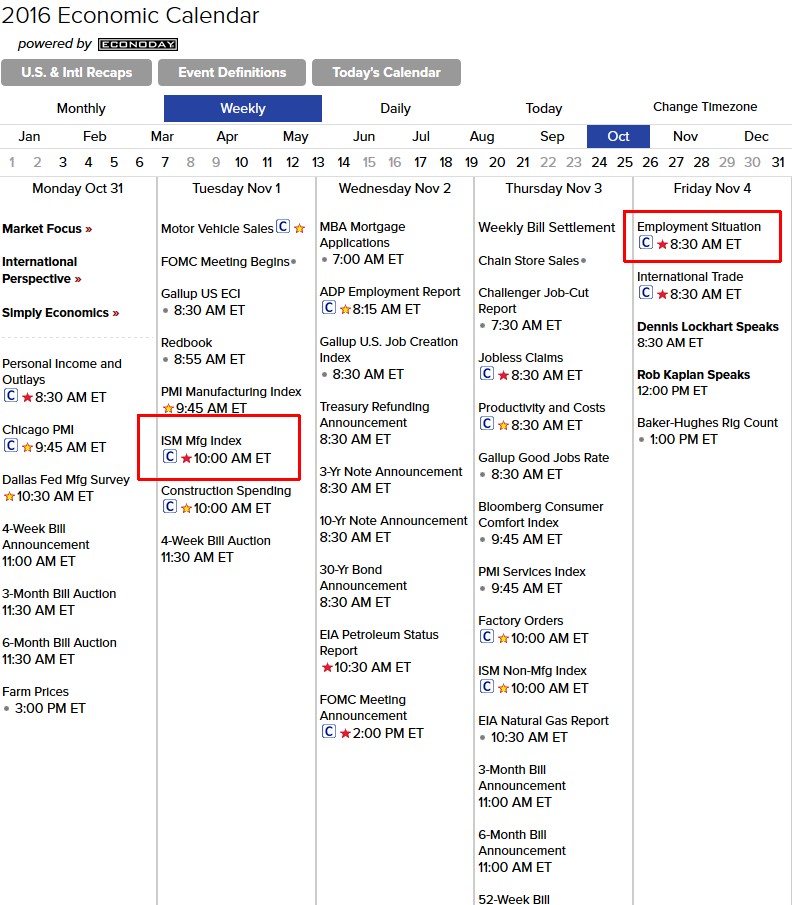 Trend Following Models:
My long term models are Bullish.
My medium term models are Bearish.
My short term models are Bearish.