Short-Term:
As we noted last week, we did see a lower low as expected. Bulls were then able bounce the market on Thursday and we are now stuck in a 6 day range. This week, with the FOMC, anything can really happen. So we normally sit on the sidelines and wait until after the announcement. We do expect a slight flat, to up move before the announcement on Wednesday. Afterwards, we think there is a slightly better chance we break down out of this range tight range but will reevaluate in real time.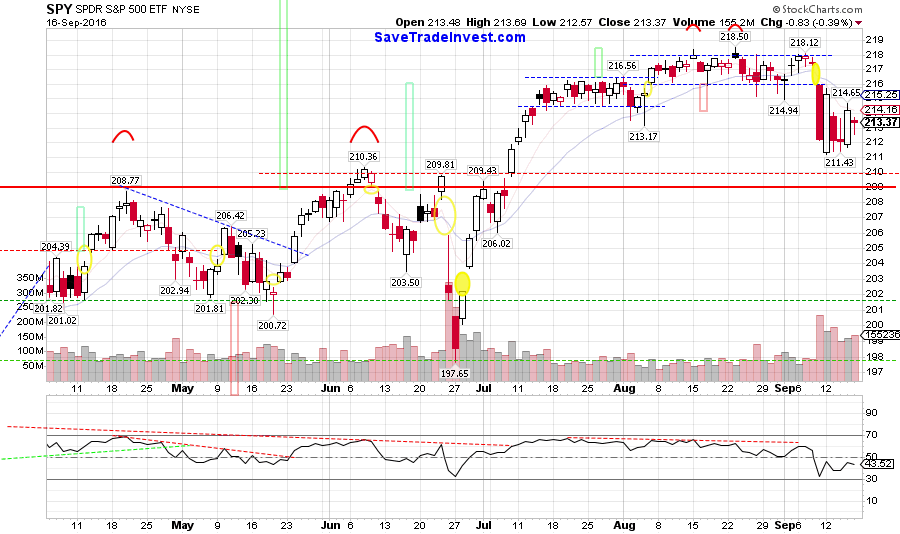 Medium-Term:
We have now noticed that outflows have begun to accelerate. This continues to verify the belief that we are seeing a change in the overall behavior of the big market players. This plays into the up tick in volatility we have been expecting and have witnessed  in the last 2 weeks. Also, now that we are in the home stretch for the election cycle the market will have yet another thing to worry about.
Bulls should still normally buy this pullback at some point. One key understanding if the pullback will be bought is: if we break back into the 2 year range. If we close and hold back into the old range the chances of the pullback being bought decrease significantly.  At that point we will likely test the 204 gap. If that fails – the long term would clearly be a false breakout.
Long-Term:
Long-Term Market Outlook (Updated 9/5/16).
Calendar:
This week is all about the FOMC. Currently, futures think there is only a 12% chance of a hike. With yields rising over the last week, we think that chance is slightly higher, but expect no change. Any kind of hike would be a shock to the market and the Fed will likely balk at pulling the trigger.
Trend Following Models:
My long term models are Bullish.
My medium term models are Bearish.
My short term models are Bearish but turning Bullish.