Short-Term:
We finally saw some strength from the Bears last week. The intraday chart on Friday was the strongest move we have seen from them since the end of June. This leads us to believe we should at-least see a lower close ahead. We also have a small double top on the chart with a 215 or so target. However, bulls will try to bounce the market in the next day or two. So if we close lower on Monday expect a bounce shortly there after. If we bounce on Monday, expect the bears to make another move lower, a little later in the week or after the Holiday.
This could still easily be a final flag formation. This type of pattern would end the month long leg up, and the Bears can finally get a turn. Bears are likely to retest and then break back into the July range when we see some more volatility.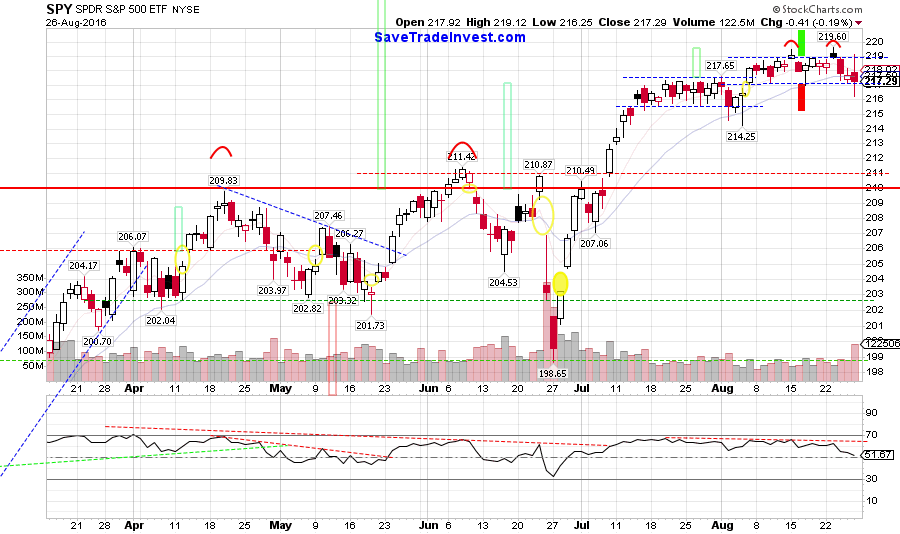 Medium-Term:
Last week, around midweek we finally saw a weakening of the inflows into the market. While some of this had to do with the anticipation of the Jackson Hole summit, we believe the other part signaled a change in the overall behavior of the big market players. This plays into the up tick in volatility we have been expecting.
Once again, we are still not on sold Fundamentals, but the market moves on liquidity and there is still plenty of money on the sidelines. However, there are still plenty of red flags that will have to be sorted out. Last week also added the chance of a September rate hike into the market stew. We have been in the dog days of summer trading for the last 2 months. However, things already seem to be picking up.
The pullback we spoke about in the short term, should eventually be bought. So currently, being a bull is a safer bet. For the bears to get serious they need to first exceed the red exceed target around 215.
Long-Term:
Long-Term Market Outlook (Updated 4/17/16).
Calendar:
This the main focus this week will be the Employment report. Since, a September rate hike is back on the table (currently a 34% chance), we think a good report will be seen negatively by the market.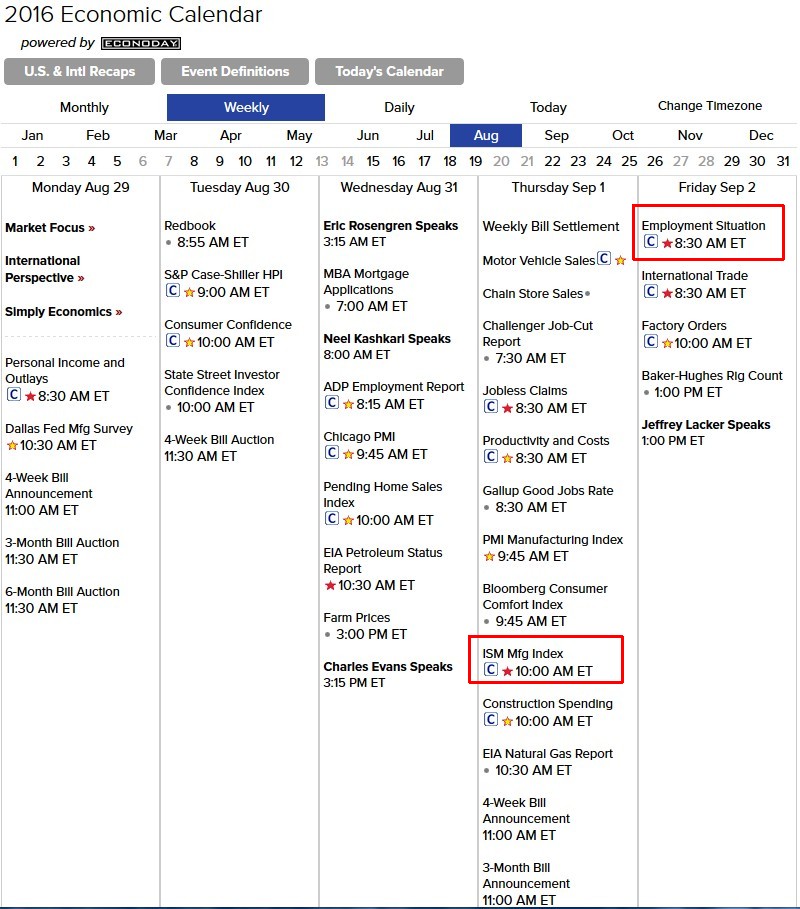 Trend Following Models:
My long term models are Bullish.
My medium term models are Bullish but turning Bearish.
My short term models are Bearish.