Short-Term:
Bulls were very strong last week again. We hit the small green target around 216, this slightly increases the chance of the breakout being real. Some of my short term indicators failed but they are only about 80% accurate, that is what happens in the game of probability. We did see 2 reversal bars last week, normally, that will imply 1-2% pullback within a week or so. The market is still very overheated so it might be time for us to take some short term profits on any longs and take a small short position as a pullback is around the corner.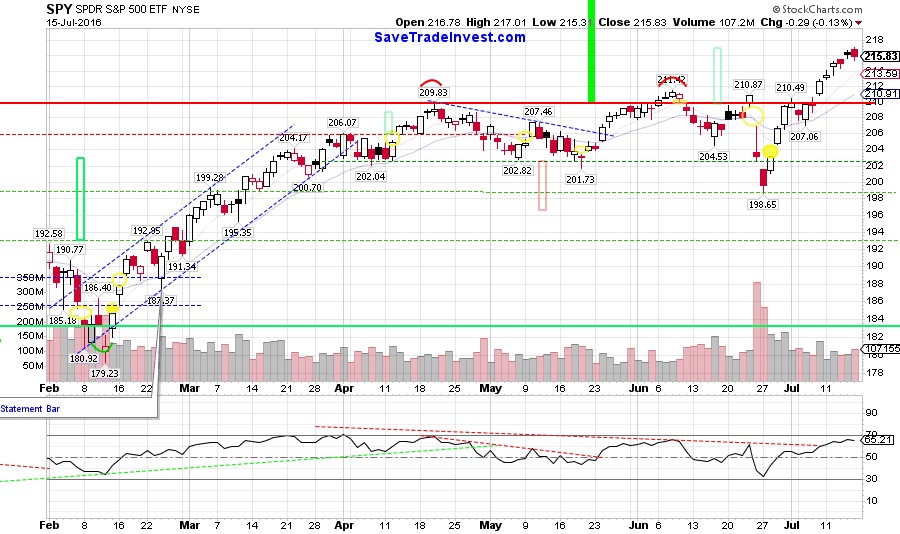 Medium-Term:
The entire world is still pumping money into the US market as it is seen as the last man standing. Some of my charts are acting the way they did when QE was active. So the current inflows from the rest of the world must be in the 10s of billions per week.
However, The Bulls are still not out of the woods. The next pullback will be crucial, if we stay above the breakout point of about 211 and then begin to rally, the break out chances go up significantly. As we have stated, by definition, it is harder to break out of a range than it is to stay in it, so for the bulls, they need to make a clear breakout to a decisive new high without any significant pullback.
The 1998 chart could be the way this plays out if it is indeed a false breakout.
Long-Term:
Long-Term Market Outlook (Updated 4/17/16).
The Calendar:
The calendar is pretty quiet this week, most of the focus will be on earnings. The only thing we need to keep an eye on is if there is any more issues with the failed Turkey coup.
Trend Following Models:
My long term models are Bullish.
My medium term models are Bullish.
My short term models are Bullish.