Short-Term:
Last week we went nowhere. The total gain on the week was 0.0%. As we mentioned, this was the best case scenario for the bulls as they were not ready to break out yet. I still think it would be best if they could stall here a little bit longer. With last weeks low volume most of our indicators are flat so we are waiting for more information to make any short term trades. Overall, the chart favors bulls unless we see a big smack down this week. In that case it would be a double top pattern.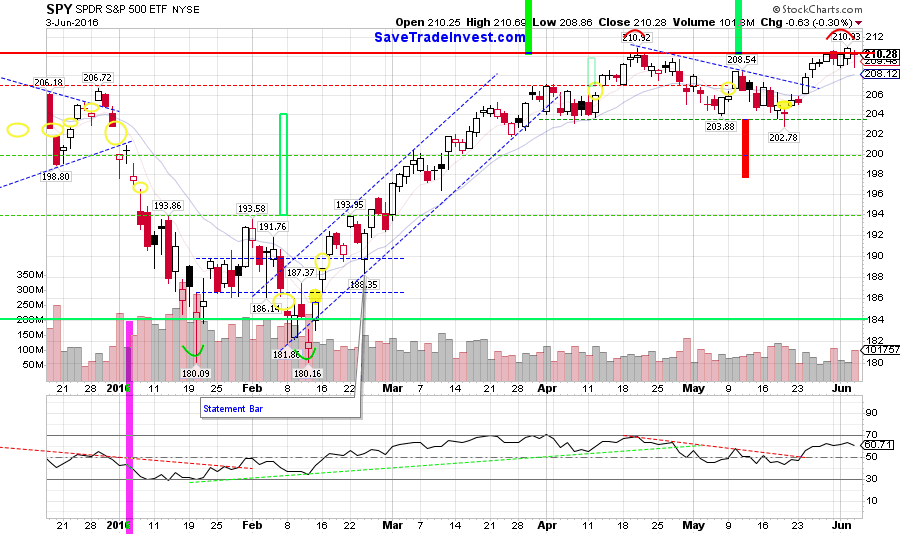 Medium-Term:
The Market has been fairly boring the last few weeks so nothing has really changed. The theme is still all about ranges. We expected momentum to stall, and stall it has. We are currently in a 2 month 6-7 point range within a larger 2 year 30 point or so range on SPY. By definition, it is harder to break out of a range than it is to stay in it, so for the bulls, they need to make a clear breakout to a decisive new high without any significant pullback. This will show that the bulls are completely in-control, and are ready to push the market significantly higher. As we have been mentioning a big move is imminent and now there is a slightly better chance (55%) that it will be to the upside.
Long-Term:
Long-Term Market Outlook (Updated 4/17/16).
Update expected in the next few week (We think chances are going up for a failed final flag pattern – we will explain more shortly).
Other Thoughts
We are thinking about putting on a small longer term market short or a long volatility position if we get a good signal in the next few weeks (higher risk/high reward trade). As we mentioned over the last few months, we expected the jobs reports to start getting worse but Friday report was horrendous. If subsequent reports continue this type of trend, we could start seeing more downside pressure as one of the last bright spots in this 7 year recovery begins to fade. (Note: average recovery period historically has been about 5 years or so). Also, no one seems to think Britexit has any chance on June 23, but poll are still relatively close. A vote to exit would be a complete shock to global markets at this point.
We are also keeping an eye on inflation, some indicators are porting to this starting to heat up. This would really handcuff the fed.
The Calendar:
Biggest event this week will take place Monday with QuEen Yellen speaking. After the report on Friday, the chance of a Fed hike in June fell to 3%. However, any hawkish tone will send shivers down the spine of the market.