Short-Term:
As expected we saw a pullback last week. The pullback has not yet exceeded the pink box so bears have more work to do if they want to start to take back control from the bulls. So we are in a somewhat wait and see mode. We should see a small bounce in the next day or so and then we will see if the bears can exceed the pink box.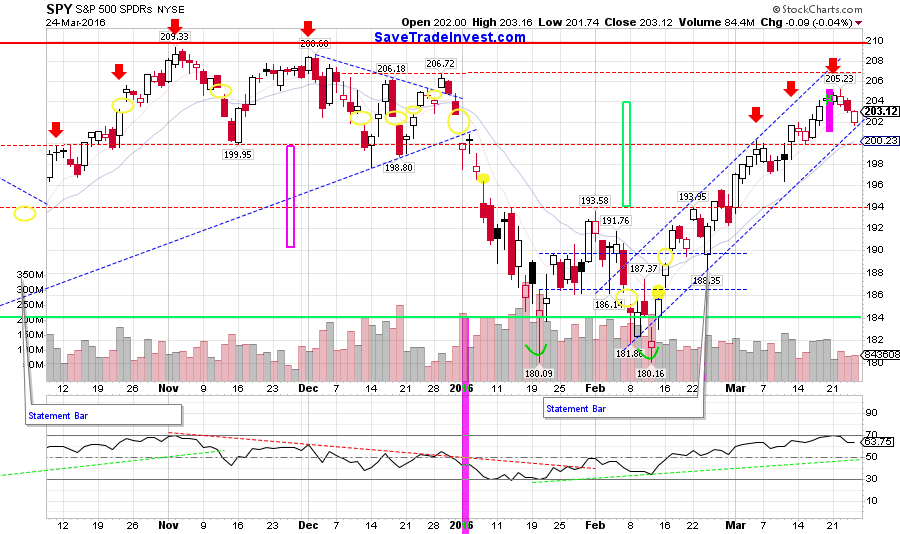 Medium-Term:
The double bottom pattern has been fulfilled which normally means bulls are strong and we should see some more up after a pullback in the coming weeks. Market internals have been impressively strong but are starting to weaken. Bears need to keep the bulls below 205. Any strong close about 208 and we will likely see new highs. We do still think the bear will make a return appearance over the next couple of months, then we will see bull or bear in the long term.
Long-Term:
Long-Term Market Outlook (Updated 2/14/16).
The Calendar:
This week will be highlighted by the GDP report. We also have the Fed parading good cop bad cop speakers including Yellen on Tuesday.
Trend Following Models:
My long term models are Bullish.
My medium term models are Bullish.
My short term models are turning Bearish.