Short-Term:
This week, the bulls need to follow through on the gains made last week. The momentum on a daily basis was strong so there should be some follow through above the 193.30 high. Also, some of my short-term models are calling for a bounce at the current levels. However any significant weakness this week will tell us that the February low will likely be retested in the coming weeks/months. It also opens the possibility to double top with the January high.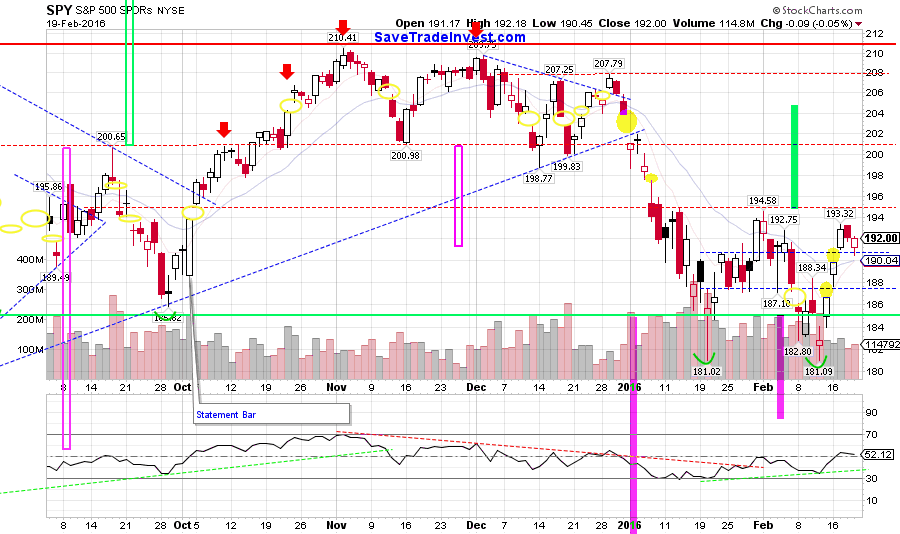 Medium-Term:
It is possible that we are putting in a double bottom with a 204 target. To confirm, we need to break out above 195. However, we are still missing a statement bar like we saw after the September lows, this make us a little less certain about the validity of a sustained breakout. The longer we consolidate below 195, the better the chance of a bearish breakout. We also would like to see the broad market start to perform better than the S&P which has not happened since early last year.
Long-Term:
Long-Term Market Outlook (Updated 2/14/16)
The Calendar:
This week there will once again be a smattering of speeches from Fed presidents. Also, Friday will be a big day with eh GDP report.
One thing to note is the UK will have a vote on June 23 about leaving the EU. This could be a Lehman type moment for European and world financial markets if no deals are reached. However, this will likely stay on the back burner until May or so.
Trend Following Models:
My long term models are Bullish (warning issued).
My medium term models are Bullish.
My short term models are turning Bullish.