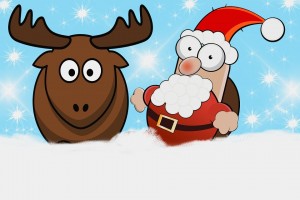 Prior week's recap:
Last week went exactly as expected. We were down big on Monday and we were able to buy into a nice $ES position at the price we wanted. The bounce then started on Monday afternoon and we sold our position on Tuesday. We then waited for the dust to settle. The Fed as expected raised the Fed funds rate by 25 basis points. The market seemingly happy to get this over with, rallied almost 1.5% (some may also attributed to the budget being passed). However, internals were even weaker after this rally so we had a good suspicion it was another head fake. The bears then showed up on Thursday and we ended the week close to where we began near the 202 level.
*Note: with the SPY dividend on Friday, my charts have updated the price. The 202 level is now about 200.
Short-Term:
The beginning of this week should play out very similar to the beginning of last week, with slightly less certainty of a bounce. This could be the bulls attempt at a Santa rally. Even though we were down 1.78% on Friday, the daily internals did not look as bad as you would expect for such a large down day. This is why we think that if we are down tomorrow we will be looking to get long for a quick bounce into Wednesday. The gap around 203 may be a good target for a bounce.
Bulls must make the next 2 weeks count because any weakness or consolidation at the bottom of this range and the bears will be off to the races come January. With holiday volume if we do see massive selling this would imply the big boys want out as fast as they can. Historically, if Santa does not show, this is a very bad omen for 2016. The December's of 2007 and 1999 are some recent examples.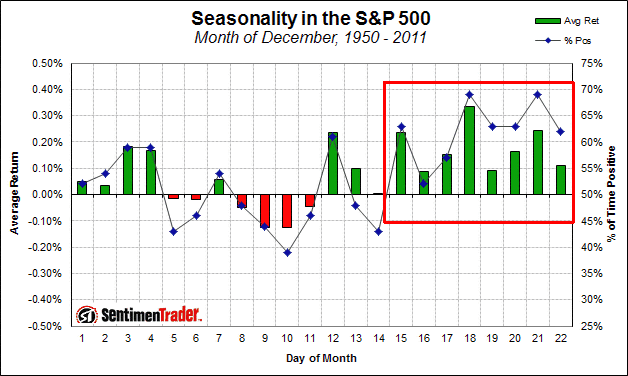 Medium-Term:
Normally, if this was not the most bullish time of the year, we would be very bearish right now given the current chart pattern. We still need to give the bulls some extra respect. The close below the range low of 200 or so is also not decisive enough yet for bears, but once it breaks, the 194 level could be a good downside target.
Internals did slightly improve this week but the bulls still have a lot of work to do on this front.
Long-Term:
Long-Term Market Outlook (Updated 12/19/15)
The Calendar:
This week should not be as volatile as last week but we do have some important reports on Tuesday and Wednesday that may add a little extra volatility. It a holiday week so the big boys should mostly be away from their trading desks.
Enjoy the day off on Friday!
Trend Following Models:
My long term models are Bullish.
My medium term models are Mixed.
My short term models are Bearish.
– Trader Tony