Prior week's recap:
Last week was very calm with the holiday volume. We saw a pullback into Wednesday but that was quickly bought. We then ended the week almost flat with a .12% gain, which was the smallest change in over a year.
Short-Term:
The consolidation we saw last week is normally bullish, so we should see some more up this week at least by midweek. There were some negative Black Friday sales reports so that might hang over the market on Monday. On a side note retail has been a drag on the market, which is hinting at weakness from the consumer. Overall, bulls would like to see a break up from the 2 large bars we saw earlier in November. If we see a sharp pullback below the 2 large bars this could be a 4th push up.
Medium-Term:
We are still on the path to test the all time high, which again means bulls are not safe until we see a decisive new high. So some caution for bulls is advised. We are still dealing with a good amount of negative divergence in the market internals which makes us suspicious. Normally, we are in the most bullish time of the year for equity's but with a possible rate hike looming, this year it is not as certain.  The chances of a December rate hike is now up to 78%.
The Calendar:
This week we will see a good amount of manufacturing and productivity reports. This should give some insight to see if the economy is indeed starting to slow. We also have many Fed speeches, capped off with Yellen talking on Thursday. Finally, on Friday we have the Non-Farm Report and the OPEC meeting (not shown below).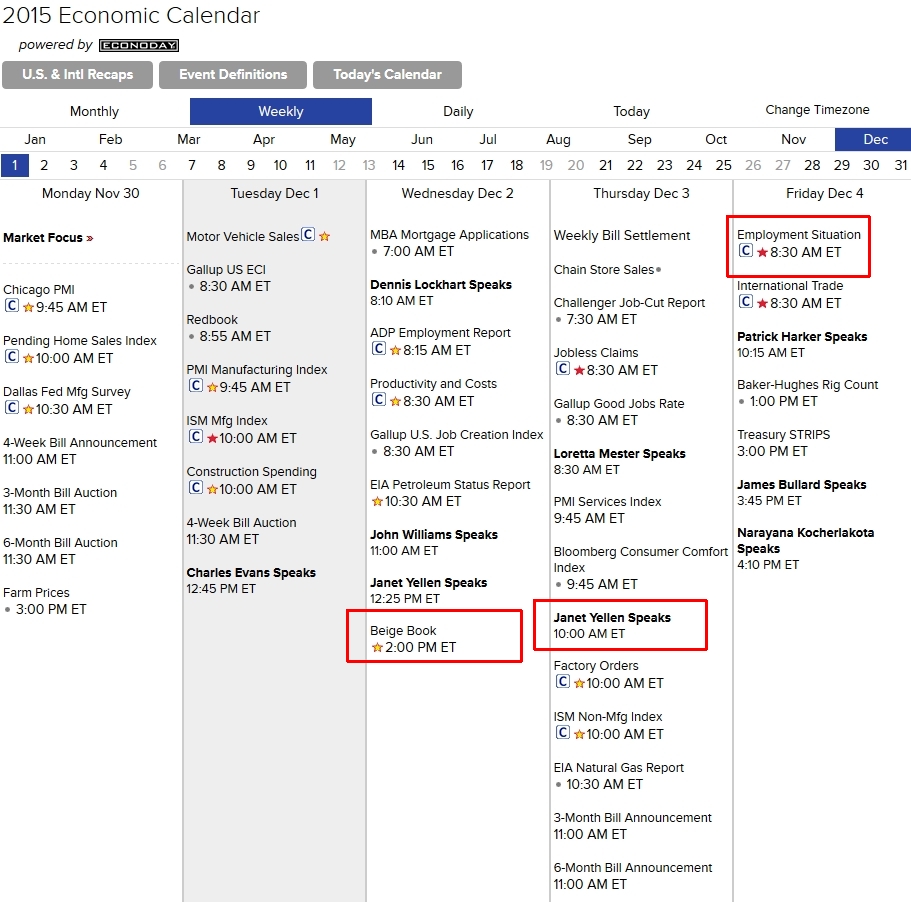 Trend Following Models:
My long term models are Bullish.
My medium term models are Mixed.
My short term models are Bullish.
– Trader Tony