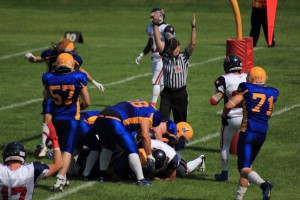 Prior week's recap:
We had a pullback midweek, but it was not enough. It was just a pause by the bulls who then attacked at the end of the week. The big rally was due in-part to Mario Draghi's dovish comments and yet another rate cut by China.
Short-Term:.
We ended the week with an ugly looking candle above a gap. So we expect we to fill that gap a some point this week. I am still seeing some divergences in some market internal that are not confirming such a strong bull (see below). However, the pullback will likely eventually be bought. The wildcard this week is the Fed. No one believes the Fed will be raising rates but an unexpected hike could turn quickly the ball back over to the bears.
Medium-Term:
As we mentioned last week once 204 broke the bulls went crazy, pushing the market up quickly to 208. The intermediate trend is now up and the double bottom target is in full effect. The bulls now need to make a decisive new all-time high without a deep pullback. A pullback bellow 201 before a new high could allow the bears to take back control.
Other Thoughts:
We mentioned in May, with Gold around 1200, Gold had a chance to go below 1000. It went as low as 1079 but has rebounded since. We may see another bear attack in precious metals as funds have quickly become too invested in the sector once again. Also with Draghi all but promising more QE in December, that should help keep the dollar strong.
The Calendar:
This week will be report heavy. The most important event will be the FOMC statement. With the large rally we have seen over the past few weeks, it is somewhat possible that this might entice the fed to sneakily begin raising rates. Also we have the GDP report to keep an eye on for Thursday.
Trend Following Models:
Our long term models are Bullish.
Our medium term models are Bullish.
Our short term models are Bullish.
– Trader Tony