Prior week's recap:
Last week went exactly as we expected. We had the slow day on Monday, then a pullback on Tuesday and Wednesday. Finally, bulls attacked again at the end of the week. The bulls ended the week at the figurative goal line since we did not see a decisive enough break yet of 203.
Short-Term:
On the surface, it looks like the bulls are poised to go after the double bottom target right off the bat, but we are starting to see some underlying weakness in the internals. This makes us a little skeptical about reaching that target in the near term. We are starting to suspect we should see a somewhat larger pullback in the next week or so.
Medium-Term:
I will give the bears a little more room. I think 204 will be a decisive enough break to change the intermediate term trend. However, there is still a lot of resistance until about the 206 level that the bulls still need to get though. Once the intermediate trend is officially up, bulls can not fail again until a decisive new all time high is reached. Otherwise, they may not be able to reverse another sharp decline again.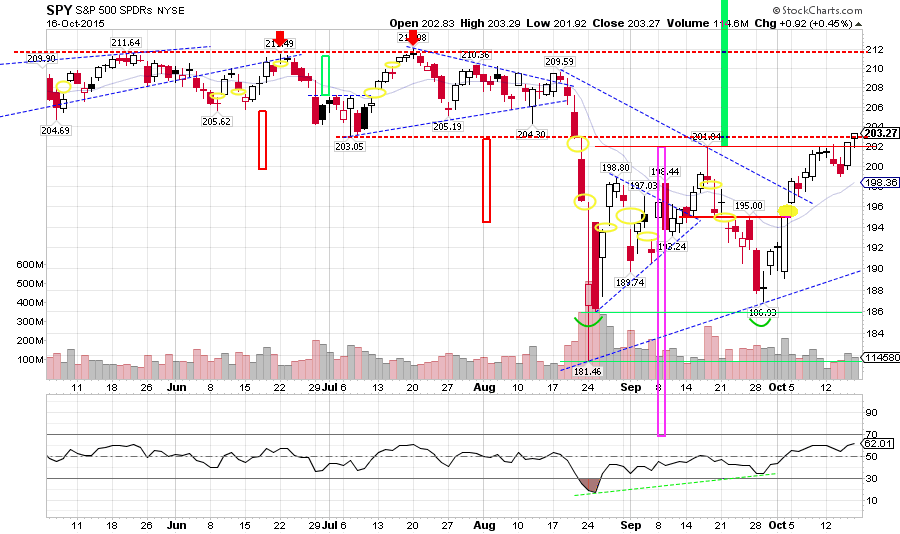 Long-Term:
We dont normally worry about fundamentals much in this blog because the market can be irrational much longer than you can stay solvent. However, we did want to point out that this is an important earnings season. Earnings have been starting to slip the last few quarters, and it will be interesting to see if this accelerates. This would another nail in the bull market if it continues. The divergence will  eventually correct itself on way or another.
The Calendar:
Another really slow week in terms of the calendar. There should be some important economic news out of China early on Monday, so that might set the tone for this week. Also, we will have news from the ECB early on Thursday.
Trend Following Models:
Our long term models are Bullish(Warning issued).
Our medium term models are Bullish.
Our short term models are Bullish.
– Trader Tony