Prior week's recap:
As we expected the bulls were on offense last week, and drove down the field. We had a small pullback on Tuesday but that just helped alleviate the severe overbought conditions from the rally on Monday. The bulls then pushed hard for the rest of the week. Also, in our opinion much of the rally last week was related to heavy covering by shorts who entered the market over the last month.
Short-Term:
The market is open on Monday but the volume might be a little lower than normal. We again expect a pullback early this week. The market is very overbought in the near term and the pullback can start as early as Monday. It should eventually be bought for an attempt to decisively break the 203 resistance should follow. The worst thing the bulls could do in the short term is attempt to break the resistance early in the week, without a pullback. This type of attempt would likely fail and could be a short opportunity for us. I am also seeing some bearish divergences develop over the last few days which would help such a bearish trade.
Medium-Term:
Bulls have increased their chances of putting in an intermediate-term bottom now to about 50%. Bears still have a chance until 203 is decisively broken. The bears' best hope is that bulls have exhausted themselves getting to the resistance level. A turnover here, and the bears might be setup to run the field as the shorts that covered would pile back in. If the bulls do decisively break the 203 level, the green double bottom target would then be in effect and we should see a test of the all time high. Consolidation just bellow the resistance would also be bullish.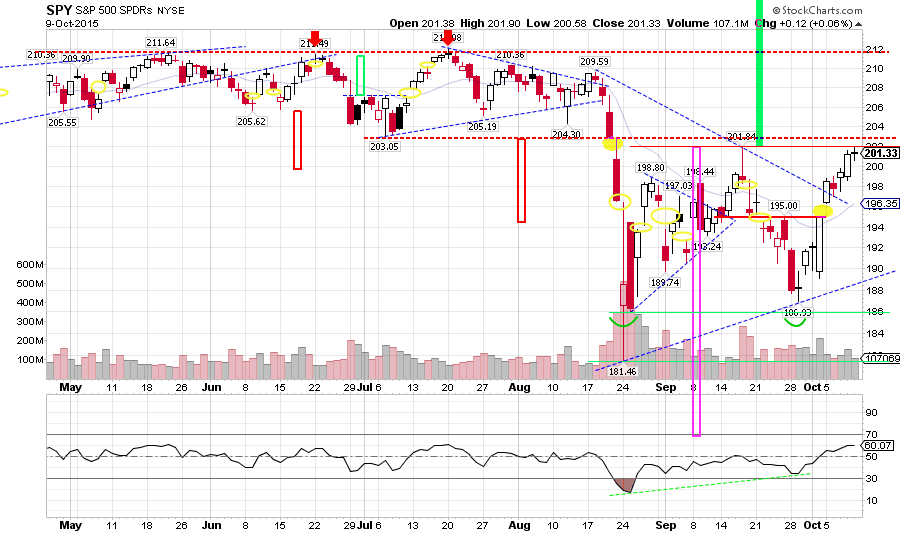 Long-Term:
Nothing has changed since our last long term update. The October 2014 lows have not been taken out, so the bull market is still intact. "IF" we breakout and test new highs then the 2015 August low "may" become the new key low to watch depending on the timing. We will continue to give updates on the landscape as things progress.
The Calendar:
We have a peppering of reports and speeches this week but I do not expect any to lead to major market moving events. Something to note is that I do not think that the meltdown in China is over and I expect it to return to the headlines over the next few months. Also, the debt debate will be starting up soon.
Trend Following Models:
My long term models are Bullish(Warning issued).
My medium term models are Bullish.
My short term models are Bullish.
– Trader Tony