Intermediate term top could be forming.
Last week was somewhat interesting, bulls had the advantage at the beginning of the week as we thought. We saw an early leg up but bears were able to hold the charge. Bears are still alive since 214 did not break. We then started to see weakness on Wednesday. Looking at some indicators it looks like the big boys got wind of the Greece news early. (See below)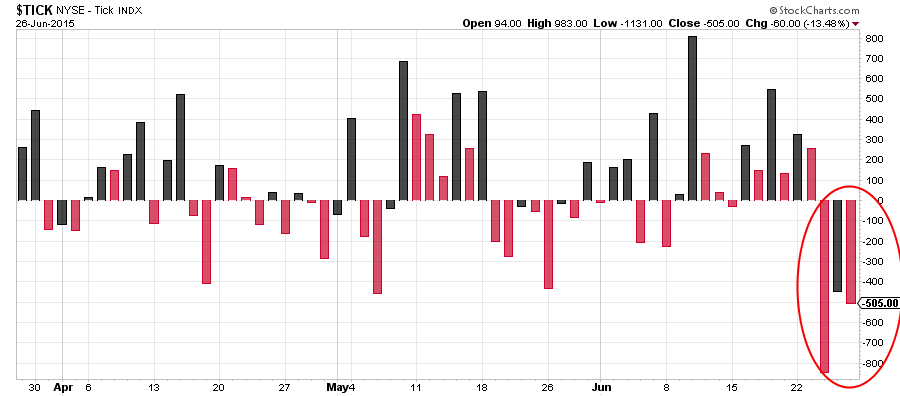 Historically, the week of the 4th of July is a low volume up week. This week will be anything but. We will mostly see volatile news driven trading. Greek banks will be closed on Monday to keep bank runs from happening. The referendum vote will take place on Sunday, July 5th. If I had to make a guess, we will gap down on Monday, but then I think we see a rebound into the middle of the week and another sell off into the weekend.
Here are few links to keep track of the developments in Greece:
– http://www.telegraph.co.uk/finance/11704054/Greece-crisis-live-banks-to-close-on-Monday-and-capital-controls-imposed-after-ECB-caps-funding-at-current-levels.html
– https://twitter.com/tsipras_eu

On the daily chart, if 209 breaks we likely see 207 quickly afterwards. You can also see how new 52 week lows have been ticking up even though we are near new highs. This is not what you want to see if you are a bull.
However, bears need to be cautious in the next 2 weeks due to big rally that could happen if there is positive Greek news. Also, keep an eye on the poll numbers coming out of the country as that will used to guide markets.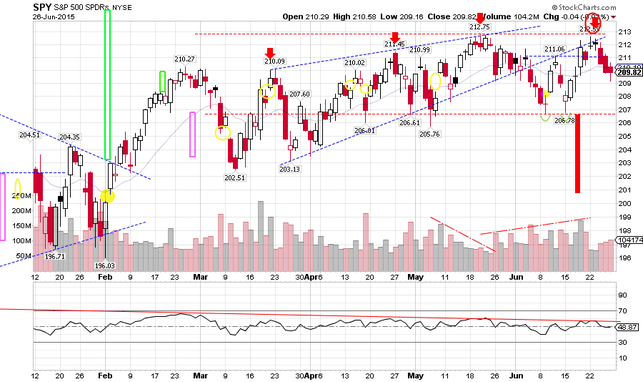 Greece will be all the focus this holiday shortened week. Also, Puerto Rico seems on the verge of default and China slow down seems to be picking up speed. Those issues might lurk in the shadows the next few weeks.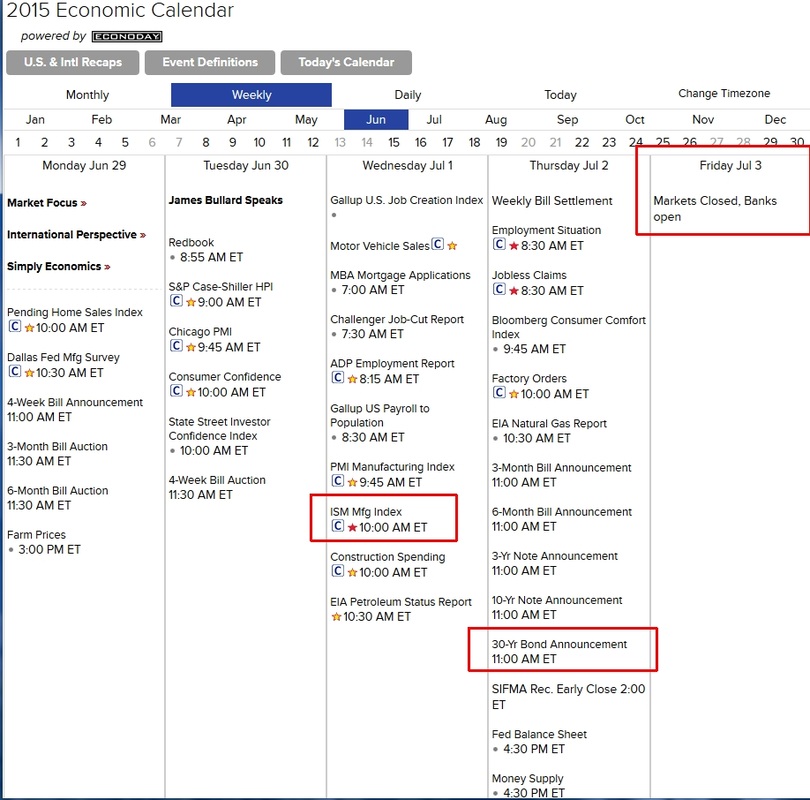 My long term models are bullish.
My medium term models are mixed.
My short term models are bearish.
– Trader Tony