Last week was slow with the holiday trading volume (big boys don't trade on low volume days). So we stayed in a tight range for most of the week. This week should be somewhat more active even though we are entering summer trading. I still think there is a slightly more bearish tone to the market this week. Therefore, I think the red 1st target has better chances. 211 is the level to watch, if that breaks we could easily test the 208 area as the next target. I also think bonds (TLT) could pause and rally here a bit after some heavy selling the last few weeks.
As far as the dollar we saw it rally pretty significantly this week, and as expected commodities had there first red week in 10 weeks.  I think the dollar pauses here around 97 and forms a bit of a range above 93 as we wait to see what direction it will ultimately take. We just need to keep an eye on the Greece situation, which could throw a wild card in the dollar chart.
In the longer term I am also seeing some divergences between indicators and price action. This is implying that momentum in the market is weakening. Also, as you can see, these divergences have happened before and resulted in significant market downturns, so some long term caution may be prudent. However, divergences can continue for quite some time, and they do not give any time frame for a correction.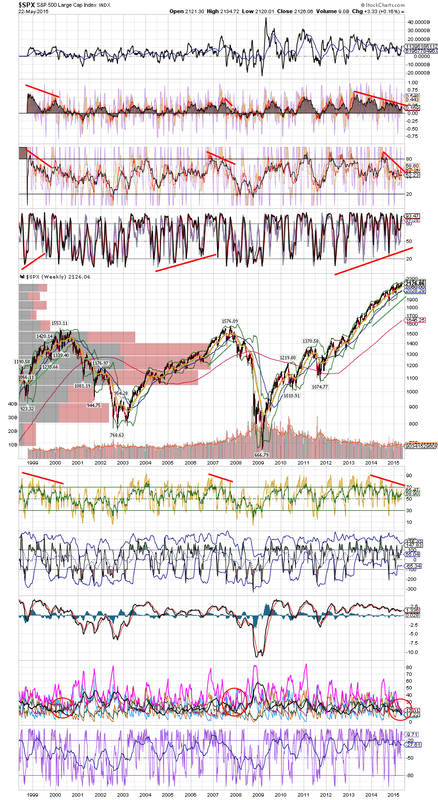 Finally, the biggest market moving report this week is the GDP report on Friday. We also need to keep an eye on the Greece situation in Europe.
My long term models are bullish.
My medium term models are mixed.
My short term models are bullish.
– Trader Tony